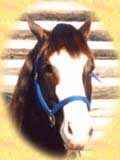 CHICS APRIL FOOL
sorrel stallion (April.1.1992)
1996 Carolina Classic Non Pro Champion
The 15th EWPC Congress Open DV Champion!
73point(\88,000-)
8th JRHA Classic Open Champion!
(2days Total \422,000-)
16th EWPC Congress Open 3rd place


八ヶ岳ホースショー結果報告 ・ 写真集
トレーニング(Sliding stop,Spin)の写真はこちらです。  
The 15th EWPC Congress
The 16th EWPC Congress
The 8th JRHA Classic
5th AMAHA Cup Rookie ChampionNEW !
SIRE:

Smart Chic Olena
 (Sire's Sire is Hollywood Jack'86)
 (Million dollers sire. '99 NRHA Hall of fame)

DAM:

Miss Puddin Pine
ブリーディングの際の入厩預託料、ご予約、詳細はお問い合わせください。
遠方の場合の格安馬匹輸送のご相談も承っております。
TEL 043-445-1007
FAX 043-445-2115
Chics April Fool training photo page.
Eldorado Breeding Program

for the Best Quality of Reining Horses & Riding Horses
---
Page top/ Photo / Eldorado Cody / Gallo Gold Cody / Kid O Rima / Offsprings / Offsprings2 / Breeding / 15th Congress /HOME
Eldorado Ranchへのメール reining@eldorado-ranch.com
TEL 043-445-1007  FAX 043-445-2115